In their most recent loop, Magical Blogorail Teal shared their
favorite Disney activities they enjoy outside the parks
. Did your favorite make the loop?
Mary of Capturing Magical Memories shares her thoughts on the
Flip Pal mobile scanner
for larger items you want to preserve from your Disney trips. Do you use a mobile scanner?
Magical Blogorail Teal will have their next loop on Tuesday, May 22nd with an all new theme. Until then, keep checking in with their blogs to keep up to date on all their Disney news, stories and photos.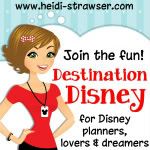 Destination Disney meme is up and running today. Join in the fun by sharing your
Top 3 Disney Resorts
. Head over to Heidi's Head to link up and share your post! Have you followed along each week as bloggers have counted down favorite snacks, attractions and more?