In their most recent loop, Magical Blogorail Blue shared the history of their favorite Disney park lands, from Walt Disney World and Disneyland. Which is your favorite?
Jenn from The Disney Babies Blog continues her Tombstone Wednesday series with the details on a Haunted Mansion tombstone. Do you know who Mister Frees was?
Natalie from Meet the Magic lists ways to prepare for a trip to Disney. Do you have any to add?
Magical Blogorail Blue will have their next loop on Friday, May 11th with an all new theme. Until then, keep checking in with their blogs to keep up to date on all their Disney news, stories and photos.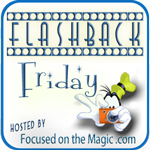 Looking for ways to share your love of Disney? Here is a blog hop that everyone is invited to join in:
Today Deb from Magical Blogorail Orange will be hosting her weekly Flashback Friday Blog Hop. If you have a favorite Flashback Photo from a Disney Vacation, blog about it and link up with Deb!