In their most recent loop, Magical Blogorail Yellow shared their favorite Magic Kingdom land and their favorite attraction within that land. Which is your favorite?
Donna at DISTherapy shared her experience of running in the Inaugural Tinker Bell Half Marathon, a runDisney event in Disneyland. Which runDisney events have you participated in?
Jodi from Magical Mouse Schoolhouse is participating in a $100 Disney Gift Card giveaway with a group of other bloggers. Head over to Magical Mouse Schoolhouse for all the details on how to enter!
Magical Blogorail Yellow will have their next loop on Friday, May 4th with an all new theme. Until then, keep checking in with their blogs to keep up to date on all their Disney news, stories and photos.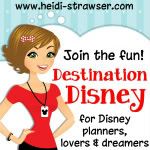 Destination Disney
The Destination Disney Meme is up and running over at Heidi's Head. This week's theme is "Top 6 Disney Restaurants." Hop on over to share your favorite restaurants and to see what everyone else had on their lists!