In their most recent loop, Magical Blogorail Peach shared what they thought to be the
best values in Disney
from souvenirs to dining to benefits of being a resort guest. What do you consider the best value in Disney?
Christina from Disney In Our Blood shares her families
Dumbo Movie Night
that ended with a special treat! What movie do you want to be a part of your movie night?
Diane from Can Do It Mom AKA Mouse Fan Diane shares the new photos of the Disney Snack T-shirts! What snack do you want to see featured on a T?
PT from 400 Miles to Disneyland shares a Wordless Wednesday Photo of
Cherry Blossoms Sparkles
! What's your favorite night time photo spot at the parks?
Magical Blogorail Peach will have their next loop on Tuesday, April 3rd with an all new theme. Until then, keep checking in with their blogs to keep up to date on all their Disney news, stories and photos.
Looking for ways to share your love of Disney? Here are a couple of blog hops that everyone is invited to join in: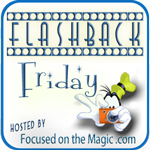 Today Deb from Magical Blogorail Orange will be hosting her weekly Flashback Friday Blog Hop. If you have a favorite Flashback Photo from a Disney Vacation, blog about it and link up with Deb!
Tricia from Magical Blogorail Yellow is hosting the
Disney Foodie Blog Hop
. This week's theme is "Snacktime."